Welcome to the
Notoriety Wiki!
We've bagged 253 articles and secured 14,265 edits!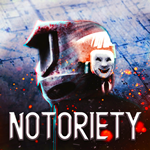 This is the wiki for Notoriety, a co-op first-person shooter created by Brick_man where you rob banks, loot warehouses and destroy waves of police with a team of up to four players.
This wiki is currently being ran by kojitori with the help of the Wiki Staff and the community, attempting to be up to date with every game update.
To get started, you can use the top navigation menu, search for a specific article, use the slider just below or scroll down to find some of the popular pages on this wiki and other links.
Rules
Vandalism is not tolerated.
Use proper grammar and spelling in pages.
Treat people with respect. Please keep discussions on the wiki civil.
No spamming or advertising.
Before creating a page, make sure it does not already exist.
Keep personal opinions out of pages. However, there is an exception to guides.
Do not be vulgar.
Comments must be related to the page they are posted on.
Community content is available under
CC-BY-SA
unless otherwise noted.